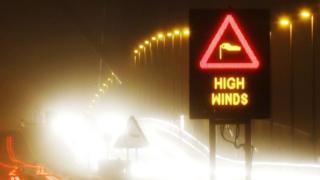 Powerful storms have swept across the UK, and forecasters are warning of another night of extreme conditions.
There have been winds of up to 90 miles per hour hitting some areas, bringing down trees and power lines.
The highest wind speed recorded in Scotland overnight on Wednesday was 90mph in South Uist. There were gusts of up to 60mph in Glasgow and 66mph in Aberdeen.
Thousands of homes in Cumbria, Lancashire and Northern Ireland have been without electricity and several roads were closed.
Football matches were called off too: hail disrupted Stoke's match against Manchester United, and rain waterlogged Sheffield Wednesday's pitch, forcing it's game against Wigan to be abandoned.
Some of you have been sending us your stories from across the country...
Thank you for your Comments. This chat page is now closed.
Last night I had no power in my home for about an hour.
Olivia, Northern Ireland
No, I haven't been affected by the storm, but I know it's been a horrible time for those who have and hope they are ok!
Phoebe, Surrey, England
The storm was so strong where I was that it blew over my Dad's really heavy plant pots!
Izzy, Cheltenham, England
It was my Christmas play last night and I got drenched from head to toe with only a waterproof coat and a bin-bag on to protect my angel dress from all the rain and wind, I even slipped over!
Lauren, Taunton, England
My Dad's greenhouse fell over last night, and now there is glass everywhere!!
Sam, Caterham,England
Last night I heard a massive bang on the door, I got so scared so I went to go check what it was. I looked outside and the rain and wind was VERY heavy.
Lucy, Cleveland, UK
Send us your comments
We want to know if you've been affected by the storm - have you been without power? Did you get caught up in the winds? Get in touch using the form below.
You must ask your parent, teacher or guardian for permission before you send us a comment.
We may show your comment on this page or in our bulletins on the CBBC channel. We'll show your first name and which town you're from - but we won't use your details for anything else.