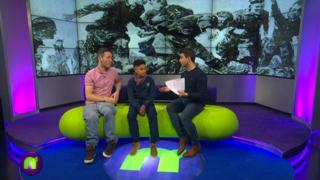 CJ and Martin talk about trip to Ypres
Martin and CJ have just got back from a trip to Ypres in Belgium to learn about the Christmas truce.
This was a football match that happened on Christmas Day during World War One.
German and British soldiers went into no man's land - the ground between the enemy trenches - to shake hands, sing carols and play a football game.
Now, the event is remembered each year with a football tournament held in the area.
Children who play with Premier League youth teams (under 12s) take part in the games and then attend a special ceremony at Menin Gate memorial.
CJ and MArtin joined Ricky on the Newsround sofa to explain what it was like.
Watch more Newsround videos