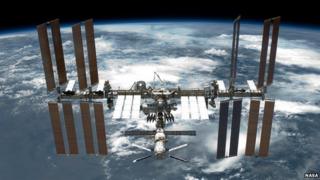 The US space agency has ordered emergency spacewalks to carry out repairs on the International Space Station.
Nasa said it will take two astronauts and three spacewalks to replace a faulty pump module which is part of technology used to keep the ISS cool in the sun's rays.
Half of the cooling system automatically shut down last week because temperatures onboard were unusual.
Nasa said the situation was potentially serious but not life-threatening.
The first spacewalk is planned for Saturday.
Cooling loops
The pump is part of one of the station's two external cooling loops, which are devices that pass ammonia outside the station to keep equipment, that's on both the inside and outside of the ISS, cool.
Each spacewalk is scheduled to last six-and-a-half hours and will be broadcast on Nasa TV.