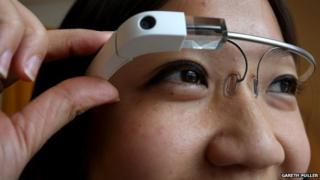 Google has introduced a new feature to its Google Glass, which allows users to take a photo with a "wink of the eye".
Google said the feature was faster than the camera button or the voice action and works even when the display is off.
The firm also said the wink feature could be used for various other things in the future, like paying for goods.
"Imagine a day where you're riding in the back of a cab and you just wink at the meter to pay," the firm said in a blogpost.
"You wink at a pair of shoes in a shop window and your size is shipped to your door. You wink at a cookbook recipe and the instructions appear right in front of you - hands-free, no mess, no fuss," it added.
The update to Google Glass, called version XE12, also adds a screen lock feature and the ability to upload and share videos on YouTube.
Check out: What else can the Google Glass do?
But, remember the company says the Google Glass isn't suitable for children under 13.
The devices are currently being tested and are expected to go on sale in the UK next year.