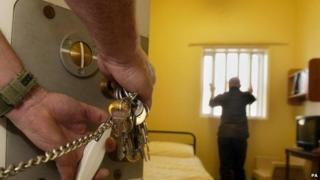 A group of MPs say some prisoners should be allowed to vote in an election.
The group of MPs, from different political parties, are part of a special committee set up to look into the issue of voting in UK prisons.
Currently no prisoners are allowed to vote, except those who are 'on remand' - this means they are being held in prison until their case goes to court.
The European Court of Human Rights (ECHR) says a total ban is illegal.
In February 2012, MPs voted to keep the current ban in place, but the ECHR says the UK needs to change the law.
Now, the special committee of MPs says prisoners who are serving less than 12 months should be able to vote.
They also say that those coming to the end of their sentences, and are getting ready to come back into the community, should be allowed to vote too.
Many people in the UK believe prisoners should note be allowed to vote because they forfeited that right when they committed a crime.