World War One affected nearly everyone in Britain, as men and boys were sent to fight in some of the toughest conditions.
One of the most interesting stories to come out of the conflict was the Christmas Truce, when German and British soldiers went into no man's land to shake hands, sing carols and play a football game.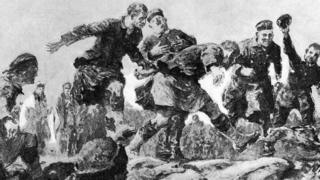 Getty Images
For the last two years, the Premier League has been running a Christmas Truce football tournament in Ypres.
This year, youth teams from England, Belgium, Germany and France all took part.
Conrad plays for Manchester City and the trip to the trenches had a big impact on him.
"It's hard to imagine what it must have been like because we've got such good lives to what it must have been like in the war," said Conrad.
Every night since the war, local people gather to remember those soldiers who died at the Menin Gate memorial in Ypres.
As part of the Christmas Truce Tournament, the players visit both Christmas Truce sites where they leave a football and wreath as a mark of respect.
The players attend the Last Post ceremony at the Menin Gate and one of the players says the Ode to Remembrance.