China's Jade Rabbit rover has started sending photos of the Moon to Earth. It's the first rover to be sent to the lunar surface in nearly 40 years.
Jade Rabbit rolled off its lunar lander and began taking photos of the lander, as well as the surface of the moon.
The name Jade Rabbit comes from an ancient Chinese myth about a rabbit living on the moon as the pet of the lunar goddess Chang'e.
The name was chosen in an online poll of 3.4 million voters.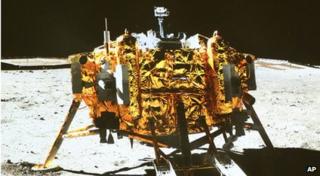 The six-wheeled Chinese vehicle carries some high tech gadgets, including a ground-penetrating radar which will gather measurements of the lunar soil and crust.
It can travel at 200 metres per hour and climb slopes of up to 30 degrees.
The lander will operate on the Moon for a year and the rover is expected to work for three months.
The mission is designed to test new technologies, gather scientific data and provide more information about Earth's dusty neighbour.