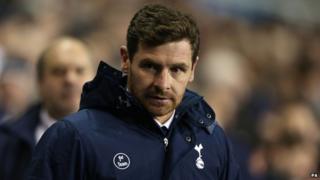 Tottenham Hotspur have sacked manager Andre Villas-Boas after only 17 months in the job.
The announcement comes after a humiliating 0-5 loss at home to Liverpool on Sunday.
The defeat was the club's worst at White Hart Lane in 16 years and left Spurs seventh in the Premier League - eight points behind leaders Arsenal.
Tottenham were also beaten 6-1 by Manchester City in November and have struggled to keep up with the top four.
A statement from Tottenham said: "The club can announce that agreement has been reached with head coach Andre Villas-Boas for the termination of his services".
Early possibilities for who could replace him include former England manager, Fabio Capello, former Chelsea boss Gus Hiddink, or current USA coach and former White Hart Lane legend, Jürgen Klinsmann.
Villas-Boas' departure comes just two days after West Brom sacked their head coach Steve Clarke.