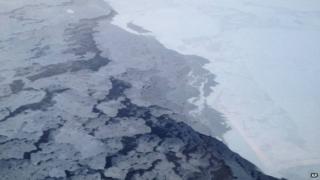 AP
The volume of sea ice in the Arctic has increased in the past year, compared to previous years.
New satellite data measured almost 9,000 cubic km of ice at the end of this year's melt season, 50% more than at the same point in 2012.
The increase could be good news for the Arctic region, as the amount of ice there, has declined in recent years.
A colder summer and more older ice being retained could both be contributing factors in the increase.
Scientists warn: 'Don't get too excited'
But scientists are keen not to read too much into just one year's recovery.
Professor Andy Shepherd from University College London said: "Although the recovery of Arctic sea ice is certainly welcome news, it has to be considered against the backdrop of changes that have occurred over the last few decades.
"It's estimated that there were around 20,000 cu km of Arctic sea ice each October in the early 1980s, and so today's minimum still ranks among the lowest of the past 30 years."