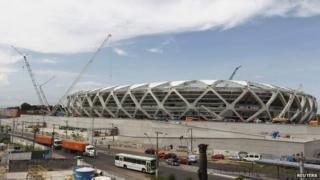 Construction work at a stadium being built for the World Cup in Brazil, has been halted over safety concerns.
It's after a worker died on Saturday at the Arena da Amazonia building site in the city of Manaus.
Contractors had suspended work at the stadium until Sunday but a court in Brazil has now halted work until a report on the site's safety conditions is reported.
Half of the 12 stadiums being built for the tournament are behind schedule.