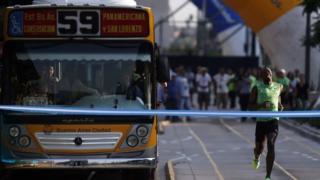 Usain Bolt races a bus - but who won?
Not content with racing human beings, Usain Bolt decided to take on a bus.
The world's fastest man was in Buenos Aires in Argentina, taking part in a race and running a session for children.
During the 80 metre race, it looked like the number 59 bus might get the better of him but Bolt upped his game, reaching the finish line first.
After the race, Bolt shook hands with the driver of the bus and took part in another race.
Watch more Newsround videos