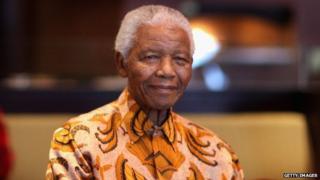 The funeral for the former South African president Nelson Mandela has taken place in Qunu, the village where he spent much of his childhood.
It brings to an end a week of commemorations for the country's first black leader.
Around 4,500 people, including foreign dignitaries such as Prince Charles, attended the funeral.
The service included tributes from members of Mandela's family as well as world leaders.
After the funeral ceremony, a smaller group of guests attended Mandela's private burial.
The former leader of South Africa passed away last week and since then tributes have been taking place across the world, including a memorial service on Tuesday in Johannesburg, which was attended by lots of world leaders.
Take a look at Mandela's life in pictures and find out more about why he was important.