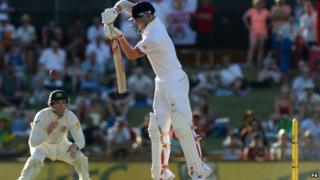 The England cricket team's grip on the Ashes has slipped further away after today's play.
They're already two down in the best of five series and need 385 runs to avoid losing the third test.
However at the of end today's play against Australia, England were 180-4 with top cricketers Alastair Cook and Kevin Pietersen being bowled out.
They now need at least 205 runs to win the third test and give them any chance at keeping hold of the Ashes.