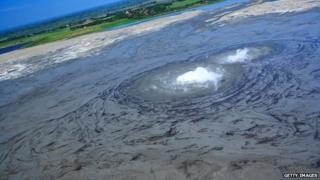 A huge mud volcano that's been erupting continuously for seven years could stop sooner than expected, say scientists.
It had been thought that the eruption of Lusi volcano, which is Indonesia in south-east Asia, would keep going until the 2030s.
But new satellite data now shows it's likely to stop by the end of this decade.
The eruption of the mud volcano started in 2006 and is the largest of its kind.
It forced tens of thousands of people to move away.
But now Professor Manga from the University of California in America says: "By 2017, it should be more or less over."
He says that within a few years only about a 1,000 tonnes of mud will be spewing out each day - that's like a thousand pick-up trucks per day.
"Small enough that it won't be a hazard, [but] maybe interesting enough still to be a tourist destination."