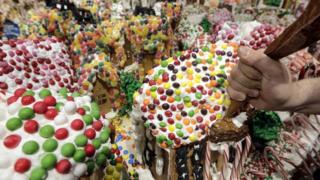 Largest ever gingerbread structure!
The world's largest ever gingerbread structure has been revealed in New York!
It's not just a house - oh no. It's an entire village made of the sweet stuff!
Gingerbread Lane is packed with candy canes, sweets and a whole load of super-sweet icing.
The sugary village has a fire station, town hall, subway station and even an ice rink. The chef, Jon Lovitch from New York, is a very, very proud man.
Watch more Newsround videos