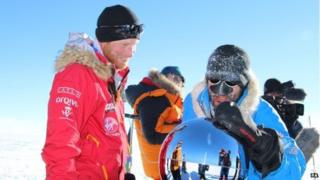 Prince Harry and his fellow adventurers in the Walking With The Wounded trek have arrived at the South Pole.
The group stood at the bottom of the world at 12pm after more than three weeks of pulling sleds.
Twelve injured servicemen and women from the UK, the US and the Commonwealth were on the 200-mile walk.
Team UK, which includes the prince and four injured British soldiers, had been racing against a US team, and a team made up of Canadians and Australians.
But, the conditions were too dangerous because of "difficult terrain" and so they continued as one group.
In a voice blog recorded on Wednesday, the prince said: "A half-day on Friday and we get to the South Pole on Friday 13th, unlucky for some, lucky for us."
All those on the trek across Antarctica were in "high spirits", he said.
"I think everyone is feeling a bit tired, but slowly getting into the rhythm. Only just got into the rhythm now and it has almost finished."
He praised his UK team-mate, Sgt Duncan Slater, from Muir of Ord, who lost both his legs in Afghanistan in 2009.
He said: "I think everyone back home will appreciate the fact that just being able to walk 100km (62 miles) in these conditions with no legs is a pretty amazing feat in itself."