Thousands of Syrian refugees are facing freezing temperatures and difficult weather conditions as snowstorms have hit areas where they've set up camps.
Families have been fleeing their homes in Syria because of fighting between the President Bashar al-Assad's forces and rebel groups who want him out.
Many of them set up makeshift homes near the border with Lebanon.
Over the past week the weather has become harsh with temperatures dropping so low icicles have formed on the huts.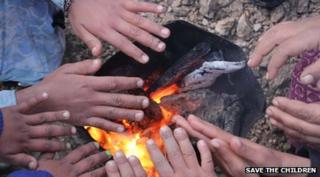 Clothes that have been left to dry have frozen stiff.
Difficult living conditions
There are around 800,000 refugees living in the Beqaa valley area in east Lebanon. As they are not allowed to set up home officially they are living in shacks and tents which don't provide good enough protection from the weather.
Families are doing their best to survive in the harsh conditions, and the army and charities are doing their best to get emergency supplies and blankets out to them.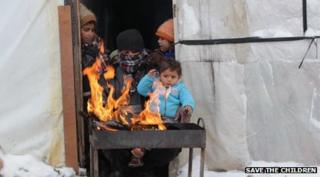 Beqaa valley is not the only camp to be hit with extreme weather.
At the Zaatari camp in northern Jordan, also on the border with Syria, authorities have installed thousands of caravans ready for the rain falling this week and the flooding it could cause.
But there are still thousands there living in tents - and those families face a long and difficult winter ahead; at least they are away from the war that still rages in their home country.
Read more: What's happening in Syria?