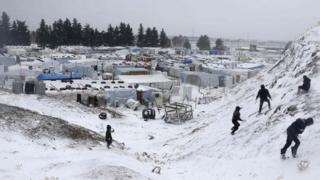 Syrian refugee camp hit by snowstorm
Thousands of Syrian refugees are facing freezing temperatures and difficult weather conditions as snowstorms have hit areas where they've set up refugee camps.
Over the past year families have been fleeing their homes in Syria because of fighting between the President Bashar al-Assad's forces and the rebel group who want him out.
Many of them have ended up setting up makeshift homes around the border between Lebanon and Syria. Around 800,000 people live in a camp in the Beqaa valley area.
Over the past week the weather has become much worse, temperatures have dropped so low icicles have formed on the makeshift huts and clothes that have been left to dry have frozen stiff.
Watch more Newsround videos