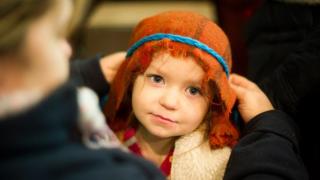 It's that time of year when many of you are not just getting ready for Santa's arrival, you're also very busy preparing for the Christmas play!
Many schools and groups put on a special performance, often about the nativity story, during December.
We asked you whether you're taking part in one and what you have to do for it. Or, if it's happened already, how did it go?
This chat is now closed but you can see a selection of your comments below
Your comments
I am in a Christmas play which is called: "Ralph the Reindeer" and I am Ralph. Its about Ralph who has to step in for Rudolph when Rudolph has a cold and Ralph is too nervous to do it! Time is running out so Santa and the elves have to help Ralph AND Rudolph!
Sana, High Wycombe, England
At my school were doing a panto I'm a dwarf, but I am the tallest in my class!
Ruthie, Sheffield, England
I am Mary and I have to stuff a cushion up my dress to look like I have a baby in my tummy!
Milly, Leeds, England
On Friday we're doing a Carol Service and I'm singing in the choir and I'm playing violin in the string orchestra.
Eva, Antrim, Northern Ireland
I am the person who does the sound in our panto- Cinderella and Rockerfella. Today was our last performance and it was so fun!!!
Alexander, Kent, England
I am Angel Gabriel, I look like the Queen of white bling :)
Gemma, Hastings, England
My Christmas play is called: "hey ewe" and I was a shepherd. It was fun and the songs were stupendous!
Fanuiel, England
My secondary school is doing OLIVER! And it is AMAZING it's over 2 hours long! I cannot wait for tonight and tomorrow! :)
Kira, Brighton, England
We did Snow White for our school panto, I was the wicked queen. It was AWESOME!!!
Meghan, London, England
At my school, our Year 1 show is The Nutcracker. I am the mouse queen who has to fight the nutcracker.
Phîne, Brighton, England
I am in year 6 and I am a child in the play called: "'Twas the night before Christmas" It is so much fun!!!
Danelle, Milton Keynes, England
I wasn't in a Christmas play this year but last year it was really fun when we all sung on a "starry night" in school.
Archita, London, England
Our Christmas play is called silent night and I am a star and I wear a halo and a white dress.
Keira, Telford, England
This year I'm playing Mary Poppins and I have so many solos. I'm in year 6 now and I'm always a narrator so this makes me feel good for my last Christmas play.
Mina, Manchester, England
I am in year 6 and I am Mary in my play, and that is the main part, plus I have to do some singing solo.
Rachael, Leeds, England
My sister is an alien in the Christmas play, called: "Christmas with the aliens!" She is called Lucy, and is the lead alien and she sings a solo!
Charlie, Harrogate, England
This year I am a narrator and I am excited because I start off the play, and I will have more confidence in myself.
Jessica, Stevenage, England
We are a different school because we don't do nativities, like last year we did the musical "Rockerfella" and recently we did "Snow White And The 8 Dwarves". I had a few minor parts like a soloist singer and the voice of the mirror.
Abode, Scunthorpe, England
I'm doing a carol concert. We are all singing and I am also a narrator in a funny part of the nativity.
Willow, Surrey, England
I am in a play called Christmas Presence where I am a innkeeper with my friend who is another innkeeper. My other friend is my wife and my two others are Mary and Joseph.
Jack, London, England
I am Herod in our play. I like this part because I get to do lots of shouting!
Oisin, London, England
In my school class 6 are doing the Christmas play. I can't wait to watch it! The songs that we have to learn are very exciting.
Rachel, London, England
We had an advent liturgy about the annunciation and I was Mary.
Teigan, Grimsby, England
I am a narrator from the play Hosanna Rock. We all have to dress up like hippies, Mary has to dress up as Sandy from Grease and the 3 wise men as Elvis Presley.
Heather, Wrexham, Wales
In our nativity I have to be Mary and sing lots of solos and 2 duets with Joseph.
Ellie, Modbury, England
Hi, we are performing 'The Bossy Christmas Fairy'. Amy is the bossy fairy, and she is very bossy. We all enjoy the singing and dancing.
Fountains Earth Primary, Harrogate, England
Yes I am in the Christmas play and I have made Hacker out of cardboard so he can be baby Jesus.
Ruby, Newton Aycliffe, England
I am in a Christmas play and I am playing a sheep with my friends, baaaaaaaaaa!
Roxy, Brighton, England
I'm playing the lead role as Cinderella.
Olivia, Northern Ireland
In our school we did a play called Rock the Baby, and the children in Year 1/2 were shepherds and angels. The best bit was the singing. My favourite songs were Carrying the Gifts and Look in the Mirror because they were fun.
Zac, Neath, Wales
I had a school play yesterday, but I was ill so I couldn't go. My friend covered my part which was the future angel in A Christmas Carol.
Amy, Leicester, England
My two brothers' primary school is doing a Christmas carol concert. They have to sing and read extracts from the Bible.
Jessica, London, England