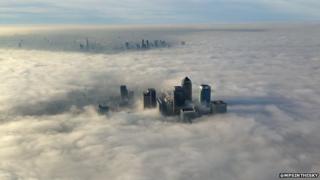 The Met office still has a yellow warning in place (meaning 'be aware') for parts of London and east Anglia because of thick fog.
The dense fog covered big patches of the south-east of England on Wednesday 11 December, causing travel disruption.
Heathrow airport had to cancel hundreds of flights and more have been called off on Thursday.
Airport bosses say they hope to have their flight schedule back to normal by mid-morning.
The Metropolitan police helicopter managed to capture these amazing pictures of the fog, showing the tips of London skyscrapers just poking through.
Captain John Roberts was piloting the MPS helicopter, he said: "Fog is a challenging condition to fly around, but once above it we were able to carry out our normal taskings. We only take photos on the way to or from a job and it has no negative impact on our policing purpose - supporting officers on the ground and keeping Londoners safe."