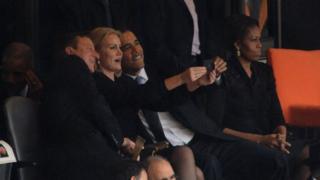 David Cameron, Barack Obama and Denmark's Prime Minister Helle Thorning Schmidt have sparked a debate after they took a 'selfie' at Nelson Mandela's memorial service.
The three of them gathered close together to take the snap on a mobile phone.
A number of UK newspapers have written about the incident saying it was disrespectful.
The Daily Telegraph's Neil Midgley said the image was "quite remarkable".
"It was so out of keeping with what the day was about," he said.
Pictures: South Africa remembers Mandela
But Heather Walker, editor of UK-based expatriate community newspaper the South African, argued: "People expected a formal occasion but it turned out to be quite casual.
"There were singers, people shouting and I suppose these three took up the tone and spirit, and thought 'well, hey, let's have a bit of fun'."