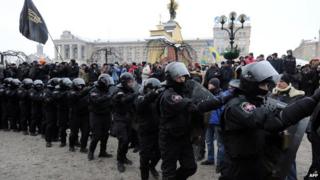 AFP
Riot police have now retreated after they stormed an anti-government protest camp in Kiev, the capital city of Ukraine in eastern Europe.
Hundreds of thousands of people have been camped out in the city's central square, calling for the president and his government to stand down.
Some people there want Ukraine to have closer ties with Europe but others want it to stay close to Russia.
The protestors believe better ties with Europe would give them a better life.
They're angry about the government's decision not to sign a deal with the European Union.
But President Viktor Yanukovych, and many other Ukrainians, want to remain close to Russia, and think signing an EU deal would put this at risk.
Government urges calm
Police had clashed with protestors as they tried to clear the square in the city centre, and there were further disturbances at the city hall.
The government has now said that the police will no longer use force against the protestors.
"I want everyone to calm down," said Interior Minister Vitali Zakharchenko in a statement.
"There will be no storming of the square. No one will violate your rights to protest peacefully, but do not ignore the rights... of other citizens."
Read more: What's happening in Ukraine?