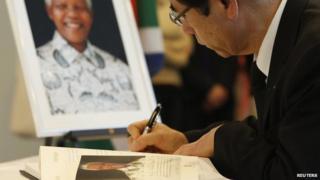 A three-day ceremony of events has begun to allow the public to pay their respects to Nelson Mandela.
Mr Mandela was South Africa's first black president. He died last Thursday aged 95.
A funeral will be held on Sunday 15 December in in his home village of Qunu in Eastern Cape province of South Africa.
Until then Mr Mandela's family and the public will be able to visit his body in Pretoria.
Nelson Mandela is admired by many all over the world for his work to promote equality and forgiveness.
Read more:Why was Mandela important?
Three days or mourning
Each day a procession will start at the city's military hospital and Mr Mandela's body will be taken to the Union Buildings.
This is called 'lying in state' and it is a tradition to allow people to pay their respects.
The Union Buildings are the official seat of the South African government.
It is where Mr Mandela was sworn in as the country's first black president in 1994.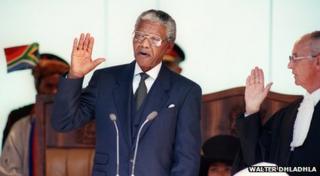 Memorial service
On Tuesday, world leaders and tens of thousands of South Africans gathered in a huge football stadium in Johannesburg for a memorial service.
US President Barack Obama said Mr Mandela was a "giant of history", adding: "The world thanks you for sharing Nelson Mandela with us".
To an ecstatic cheering crowd, Mr Obama said: "We will never see the likes of Nelson Mandela again.
"While I will always fall short of Madiba's (Mr Mandela's clan name) example, he makes me want to be a better man."