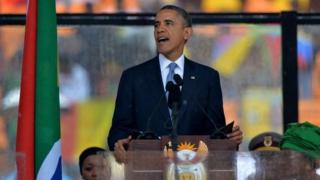 Huge crowds honour Mandela
World leaders and tens of thousands of South Africans gathered in a huge football stadium today for a memorial service for Nelson Mandela.
US President Barack Obama said Mr Mandela was a "giant of history", adding: "The world thanks you for sharing Nelson Mandela with us".
Many waited for hours in the rain to get into the huge Johannesburg stadium.
It was the venue for the closing ceremony of the 2010 World Cup - Mr Mandela's last public appearance.
Death of Nelson Mandela videos