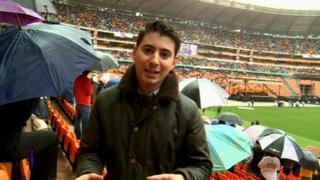 Ricky reports from the memorial service
World leaders and tens of thousands of South Africans gathered in a huge football stadium today for a memorial service for Nelson Mandela.
In spite of the heavy rain there was a celebratory atmosphere in the FNB Stadium in Johannesburg, as people wanted to pay their respects.
Ricky was in the stadium for Newsround and spoke to members of the crowd.
Death of Nelson Mandela videos