World leaders and tens of thousands of South Africans gathered in a huge football stadium today for a memorial service for Nelson Mandela.
US President Barack Obama said Mr Mandela was a "giant of history", adding: "The world thanks you for sharing Nelson Mandela with us".
Many waited for hours in the rain to get into the huge Johannesburg stadium.
It was the venue for the closing ceremony of the 2010 World Cup - Mr Mandela's last public appearance.
Pictures: Nelson Mandela remembered
'Unique gift'
To an ecstatic cheering crowd, Mr Obama said: "We will never see the likes of Nelson Mandela again. While I will always fall short of Madiba (Mr Mandela's clan name), he makes me want to be a better man."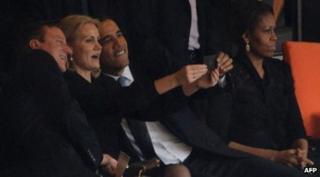 UN boss Ban Ki-moon also paid tribute, saying: "Mandela hated hatred. Not the people. He showed wholesome power of forgiveness. A unique gift."
But South African President Jacob Zuma was booed by a noisy crowd each time his face appeared on the big screens. He has recently been accused of spending too much government money on improvements to his official house.
The service - including prayers of different religions and songs of remembrance - lasted four hours and was shown on big screens at three "overflow" stadiums.
Nelson Mandela, who was South Africa's first black president, died last Thursday aged 95.
Yesterday members of the UK government stopped work to pay tribute to Nelson Mandela at the Houses of Parliament.
They said honouring the former South African president was their "principal occupation" of the day.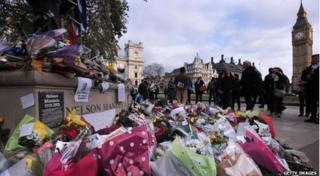 Another event will take place later in the week at Westminster Hall, where Mr Mandela spoke to parliament in 1996.
Prince Charles has confirmed that he will travel to South Africa to represent the Queen at the state funeral for Nelson Mandela on Sunday 15 December.
Prayer and reflection
On Sunday, people in South Africa held a day of "prayer and reflection".
South African President, Jacob Zuma, encouraged people to go to places of worship on Sunday to remember their former President.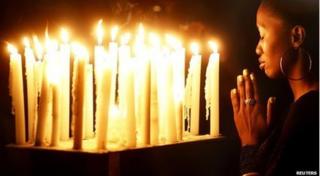 Since Mandela's death was announced on Thursday, crowds of people have been gathering outside the houses where he lived, lighting candles, praying, singing and dancing in celebration of his life.
Click here to read our guide about why Nelson Mandela was important.
Look back at the life of Nelson Mandela in pictures.
Find out about some of Mandela's most memorable speeches.