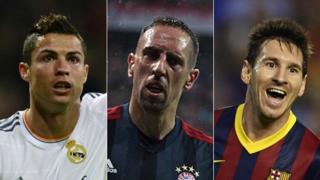 Cristiano Ronaldo, Franck Ribery and Lionel Messi have made the shortlist for the 2013 world player of the year award, or Ballon d'Or.
The trio were chosen from a 23-man list, which included former Spurs star Gareth Bale.
Barcelona's Messi has won it four years in a row but Ronaldo is favourite this time round.
He's scored 51 goals in 41 games this year for Real Madrid.
Frenchman Ribery cannot be ruled out after winning the league, cup and Champions League treble with German side Bayern Munich.
Female top three
The three names on the women's shortlist are Nadine Angerer (Germany), Marta (Brazil) and Abby Wambach (USA).
Fifa has also confirmed the final three for coach of the year - with former Manchester United boss, Sir Alex Ferguson, up against ex-Bayern Munich coach Jupp Heynckes and Borussia Dortmund's Jurgen Klopp for the award.
The winners, to be announced at a ceremony in Zurich on 13 January, will be decided by a vote among the captains and head coaches from Fifa's men's national teams, as well as by international media representatives selected by France Football magazine.
What is the Ballon d'Or?
France Football introduced the Ballon d'Or in 1956 to honour the European footballer of the year, with England's Stanley Matthews the first winner.
In 2007 the award became a world player award and three years later it merged with Fifa's own world player honour.
Barcelona and Argentina forward Messi has won every year since the merger.
Those who missed out
Aside from Bale, five other Premier League players failed to make the cut from the initial 23 - Arsenal midfielder Mesut Ozil, Chelsea forward Eden Hazard, Liverpool striker Luis Suarez, Manchester City midfielder Yaya Toure and Manchester United striker Robin van Persie.