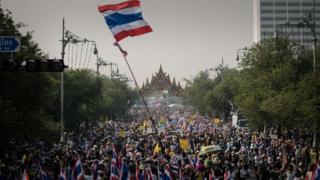 Thai Prime Minister, Yingluck Shinawatra, has stopped the country's parliament and called an election, after mass protests in the capital, Bangkok.
It happened after members of parliament from the opposition party resigned on Sunday, and protesters marched again on Government head quarters.
Ms Yingluck was elected leader in 2011 but the protesters say her government is controlled by her brother, Thaksin Shinawatra, who was previously removed from power.
Early on Monday, as protesters set off for Government House, Ms Yingluck announced on television that she would call an election.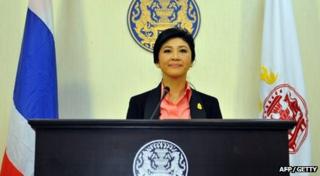 "At this stage, when there are many people opposed to the government from many groups, the best way is to give back the power to the Thai people and hold an election," she said. "So the Thai people will decide."
Thai government officials say the election will be held on 2 February.
The BBC's Jonathan Head, in Bangkok, says the election call is still unlikely to satisfy many of the protesters, who say the entire voting system needs to be changed, and that Ms Yingluck and her family must leave the country.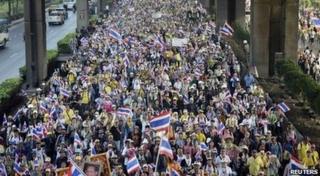 Anti-government protesters, who have been calling for her government to be replaced with an unelected "People's Council", say the rallies will continue.
Tens of thousands of protesters are out on the streets of Bangkok, marching towards Government House from several different directions.
More than 60 schools in Bangkok have closed, AP news agency reports.
There have been no reports so far of violence in Monday's protests. However, last week's protests turned violent, and five people died.