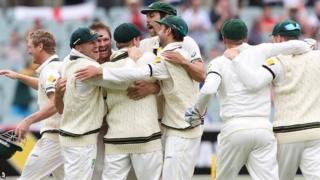 Australia have won the second game of the ashes after thrashing England by 218 runs in Adelaide.
Alastair Cook's team needed a score of 312 to win but were bowled out in less than an hour.
Australia are now 2-0 up in the best of five series but after the game England captain Cook said: "The Ashes are not gone.
"If we believe they're gone they might as well be. We have to look deep into our inner souls to drag something out."
The third test between the sides starts in Perth on Friday.