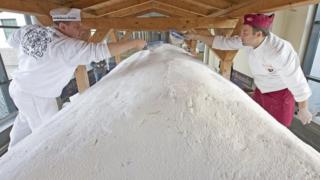 Giant stollen Christmas cake unveiled
A giant stollen Christmas cake has been unveiled in the Germany city of Dresden.
The huge cake was brought through the streets in a horse-drawn carriage whilst marching bands played in a Christmas parade.
Stollen, which originated in Germany, is a Christmas cake made with dried fruit, marzipan and covered with sugar.
The giant cake, which is more than 4 metres long, has been made as part of a yearly festival called Stollenfest and took 66 bakers to make.
Watch more Newsround videos