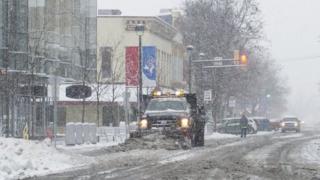 Winter ice storm hits America
Wintry weather is causing chaos in large parts of America where a huge ice storm has hit several states.
Thousands of people in states including Texas, Minnesota, Montana and South Dakota have no electricity because of the storm and many roads are dangerous because they're covered in frozen snow.
Flights from Dallas airport in Texas have been cancelled and passengers had to shelter there overnight.
Weather forecasters say the freezing weather conditions will move on to Virginia and the surrounding states.
Watch more Newsround videos