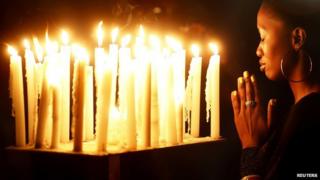 People in South Africa are holding a day of "prayer and reflection" for former leader Nelson Mandela.
South African President, Jacob Zuma, encouraged people to go to places of worship on Sunday to remember their former President.
World leaders including David Cameron and Barack Obama, will attend a national memorial service on Tuesday in the Johannesburg football stadium.
Prince Charles has confirmed that he will travel to South Africa to represent the Queen at the state funeral for Nelson Mandela on Sunday 15 December.
Since Mandela's death was announced on Thursday, crowds of people have been gathering outside the houses where he lived, lighting candles, praying, singing and dancing in celebration of his life.
Click here to read our guide on why Nelson Mandela was important.