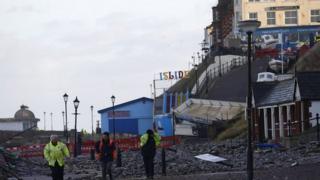 Clean up under way after storm surge
A clean up operation is continuing after the worst storm surge in 60 years hit parts of the east coast of England on Thursday.
These houses on the Norfolk coast were left hanging over the cliff after huge waves crashed in to them.
The Environment Agency says 1,400 properties have been flooded and thousands of people had to leave their homes.
More than 10 flood warnings around the Anglia area are still in place.