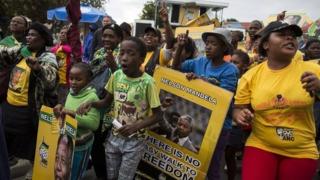 Crowds pay tribute to Mandela
Crowds of South Africans have spent the night paying tribute to the life of Nelson Mandela, who died on Thursday, aged 95.
People have been gathering outside his former home in Soweto, where they've been remembering his legacy by lighting candles, dancing and singing.
Meanwhile, South African President, Jacob Zuma, has announced a state funeral will be held for him on Sunday 15 December.
A minute's applause in honour of Mandela, will be held before kick-off at Premier League and other football matches on Saturday.