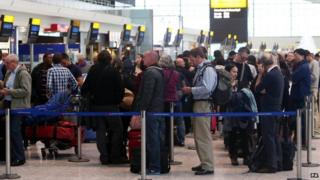 Flights in and out of many airports across the UK and Ireland are being delayed because of an air traffic control fault.
Britain's busiest airport, Heathrow has been affected as well as Stansted, Cardiff, and Glasgow airports.
The problem has been caused by a glitch with computers switching between their night and daytime modes.
Thousands of passengers have been left stranded in airports.
It's thought the problem will carry on through Saturday afternoon.