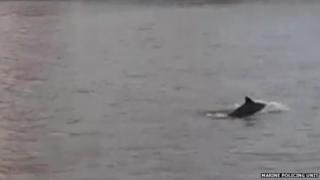 A pod of five porpoises have been spotted in the River Thames in London.
The Marine Policing Unit were alerted to a sighting of the porpoises on Friday morning near Tower Bridge in Central London.
Its thought the porpoises could have been so far up the river because of the storm surge.
A spokesperson for the Marine Conservation Society said: "It is unusual for five animals to be in the river.
"It isn't possible to say whether the tidal surge is the cause of the porpoises being in the river, but it could well be related, either to the tidal movement, or as a response to the particularly rough seas beforehand."
Porpoises look similar to dolphins and favour the shallow waters of coasts, travelling together in pods.