Nelson Mandela, the leader of a movement to end South African apartheid, was released from prison 30 years ago on 11 February, 1990.
Mr Mandela, who died in 2013 aged 95, was South Africa's first black president after spending 27 years in jail.
He is remembered as one of the greatest leaders the world has ever seen.
Why was Nelson Mandela important?
When Nelson Mandela was a young man, white and black people in South Africa weren't allowed to do things together and had to live separate lives under a system called apartheid.
White people, who were a small part of the population, were in charge of everything in South Africa.
It was illegal for black people to use the same things or go to the same places as white people and white people had access to better schools and hospitals.
Black people were also denied basic rights, like being allowed to vote in elections.
But, Nelson Mandela believed that everybody should be treated equally.
Mandela joined a political party called the African National Congress (ANC) and later co-founded the ANC Youth League, leading protests against apartheid.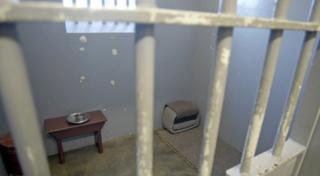 Sometimes demonstrations or the action taken in the name of civil rights was violent and in 1964, Mandela was sentenced to life in prison and spent time on Robben Island.
Robben Island is an island north of the South African city of Cape Town, it was the site of a prison used for over 300 years, many of its prisoners were political.
While Mandela was in prison, photos of him were banned and it was even illegal to quote him in public.
But people from all over the world campaigned for his release.
Songs were written and big concerts were held in protest.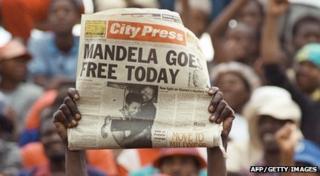 AFP/Getty Images
Finally, in 1990, the South African President FW de Klerk - a white man - allowed him to go free.
Mandela had spent 27 years in jail and was greeted as a hero on his release.
He is famous for promoting a message of forgiveness and equality.
Apartheid was abolished a year later in 1991, and three years after that, South Africa held its first fully-democratic elections in which black people, as well as white, were allowed to vote.
Nelson Mandela was elected president and set about trying to bring people of different races together.
In 1993, he was awarded the Nobel Peace Prize - the highest honour of its kind - for his work.
In 1995, South Africa held its first major sports competition - the Rugby World Cup.
Mandela gave his support to the South African rugby team, made up mostly of white men, so that it would unite the country. The team, known as the Springboks went on to lift the trophy.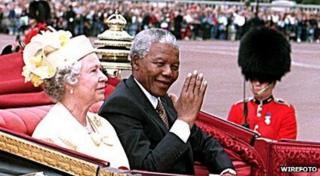 WIREFOTO
Mandela was world famous and became one of the world's most popular leaders, with politicians and celebrities all wanting to meet him.
Even though Nelson Mandela helped to make South Africa a fairer place, the country still has lots of problems today, including poverty, violent crime and disease.
But he is remembered around the world for his message of peace and unity.