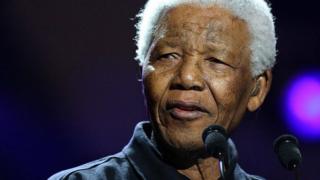 AFP
Nelson Mandela is considered to be one of the most inspirational leaders in history.
One hundred years since his birth here are quotations from some of his most famous speeches.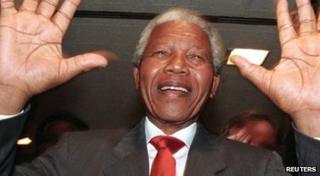 Reuters
"I have fought against white domination, and I have fought against black domination."
"I have cherished the ideal of a democratic and free society in which all persons live together in harmony and with equal opportunities."
"It is an ideal which I hope to live for and to achieve. But if needs be, it is an ideal for which I am prepared to die."
Nelson Mandela made this speech in court in 1964, just before he was sent to prison.
A surge of strength and joy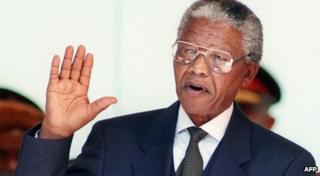 AFP
"The cameras started clicking like a great herd of metallic beasts. I raised my right fist and there was a roar.
"I had not been able to do that for 27 years and it gave me a surge of strength and joy."
In his book released in 1994, Nelson Mandela described the day he was released from prison in 1990.
A rainbow nation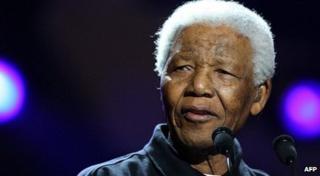 AFP
"We shall build a society in which all South Africans, both black and white, will be able to walk tall without any fear in their hearts, assured of the inalienable right to human dignity, a rainbow nation at peace with itself and the world."
"Never, never, and never again shall it be that this beautiful land will again experience the oppression of one by another... The sun shall never set on so glorious a human achievement. Let freedom reign. God bless Africa!"
Nelson Mandela made this speech when he was made President of South Africa on 10 May 1994.
Be that great generation
"Massive poverty and obscene inequality are such terrible scourges of our times... So much of our common future will depend on the actions and plans of these leaders. They have a historical opportunity to open the door to hope and the possibility of a better future for all...
"Sometimes it falls upon a generation to be great. You be that great generation. Let your greatness blossom. Of course the task will not be easy. But not to do this would be a crime against humanity, against which I ask all humanity now to rise up."
In 2005, Nelson Mandela spoke at the Live 8 concert in Johannesburg.