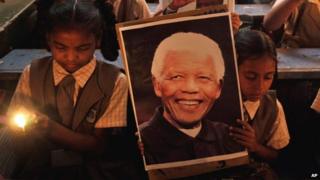 People around the world have paid tribute to Nelson Mandela after he died aged 95.
He is seen as one of history's greatest leaders and people from all walks of life have described how he inspired them.
David Beckham said: "We have lost a true gentleman and a courageous human being" and Usain Bolt called him "one of the greatest human beings ever".
Thank you for your tributes, the chat is now closed.
Your tributes
I think Nelson Mandela was a man that cared for people. Also he was strong.
Kerissa, London, England
In school we have been learning about segregation and we have talked about him. From what I know about him I think he has been an inspiration to all.
Tilly, Stockport, England
Rest in peace Nelson Mandela, we will always remember you and you will live on in our hearts. He will never be forgotten, his fight for equality was a war that he won. Rest in peace and forever live on in this universe.
Lara, London, England
RIP Nelson Mandela he was such an inspiration. So sorry to his family and to a nation.
Harrison, Wiltshire, England
I am very shocked about this news. May his soul rest in peace. He surely has left behind a huge impact to the world. RIP Nelson Mandela.
Zakia, Boston, England
Nelson Mandela was a great hero and he really believed that black people should be treated the same way as white. If Nelson Mandela never existed people like me would be treated horribly. Rest in peace.
Taffy, Zimbabwe, southern Africa
Mandela will go down in history for standing up for black people.
Sarah, Manchester, England
Nelson Mandela is a true inspiration to me because of what he did for black peoples rights.
Maha, Manchester, England
Nelson Mandela is a really influential man to some people and its upsetting for this news to happen. He wanted to bring peace to the world.
Sandra, Portsmouth, England
If Nelson Mandela didn't exist the whole world would be very different. We will miss you Nelson.
Aribah, Birmingham, England
It's so sad Mandela has died because I think he was a spectacular man and his ideas are definitely right.
Ellie, Tameside, England
He was such a good role model and has achieved so much. He fought for equality and got it. I will miss him.
Muna, London, England
In my opinion, Nelson was a great leader and led his country very well. It is a very upsetting time for his close family and his country.
Rhys, Gloucestershire, England
We have lost one of the most significant role models of our time.
Leanne, Portsmouth, England
I think Nelson Mandela was a great man for what he did and having forgiveness when he could have started a fight. He will always be remembered for his peace.
Ellie, Leicester, England
Nelson Mandela was a hero, not only for South Africa but the whole world. He was a great leader, being the first black president of his country after enduring 27 years in jail. He changed the lives of many people for the better by abolishing the apartheid. He will be remembered all around the world for his work on equality and forgiveness. Rest in peace.
Class 4J and Miss Jones, Lowther Primary School, England
Nelson Mandela - gone but never forgotten. We will all be sad to see a caring man go. What he did while he was alive is amazing so his name will live on.
Salma, London, England
Our thoughts are with Nelson Mandela's family at this sad time. Our class felt quite emotional at the sense of loss of this amazing, joyful man. We will all remember how he changed our world!
Class 3M and Mrs Meads, Hook-with-Warsash CE Academy, England
Nelson Mandela changed the face of the world. Sad to say goodbye to one of the most amazing men on Earth.
Luke, Northumberland, England
You must ask a parent or guardian for permission before sending us a comment.
We may show your comment on our website or the CBBC channel. If we do, we'll show your first name and where you're from. We won't use your details for anything else.