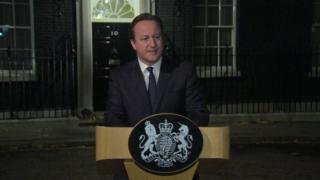 Cameron pays tribute to 'hero' Mandela
UK Prime Minister David Cameron has paid tribute to the former South African President Nelson Mandela, who has died at the age of 95.
Speaking outside 10 Downing Street, Mr Cameron said that "one of the brightest lights of our world has gone out".
He described Mr Mandela as "not just a hero of our time, but a hero of all time."
Death of Nelson Mandela videos