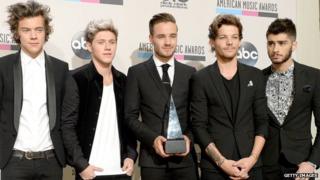 One Direction have become the first group in American chart history to have their first three albums enter the charts at number one.
Their third album Midnight Memories sold 546,000 copies in the United States since being released.
It means they are one of only three groups to sell more than 500,000 albums in American in a week.
The album also went straight to number one in the UK. It is the fastest-selling album for two years.
The former X Factor group's third record sold 145,000 copies in the UK in its first three days, according to the Official Charts Company.
Midnight Memories is the follow-up to last year's Take Me Home, which also went to number one.
Their debut album, Up All Night, went to number two in the UK when it was released in 2011.