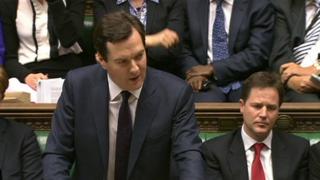 Government to announce spending plans
The government is expected to announce its spending plans in the Autumn Statement today.
The Chancellor George Osborne will make his speech this morning.
The plans are expected to include extra cash to build better kitchens in some schools and money to improve roads and transport.
But there will also be more cuts to government departments.
The BBC's Chris Mason's been outside Downing street to explain why this is seen a big deal.
Watch more Newsround videos