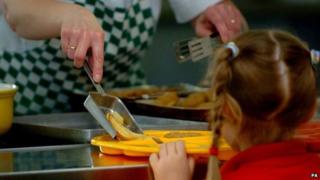 The Chancellor George Osborne has said there'll be free school meals for all Year 1 and Year 2 kids in English primary schools from next September.
He made a speech today in Parliament about the government's spending plans, called the Autumn Statement.
There'll also be an extra £150m to update and build kitchens and dining rooms in primary schools in England.
The Labour party says the government's done nothing about the "cost of living crisis" facing many people in Britain.
Britain's economy 'getting better'
George Osborne says the UK's economy is growing faster than any other major developed country; but the job of recovery is "not yet done".
The Chancellor announced more money to be invested in energy, transport, communications, and water projects.
But there will also be £1billion more cuts in funding for government departments.
In his speech, Mr Osborne said he realised times are still hard: "The effects of the financial crash on family budgets and the cost of living are still being felt."
"So where we can afford to help hardworking families, we will continue to do so."
What is the Autumn Statement?
The Chancellor, who's in charge of how Britain spends its money, makes two important speeches in the House of Commons each year about how the economy is doing.
There's the Budget, in the spring, and the Autumn Statement, which used to take place in November but has moved to December in recent years.