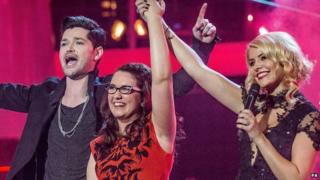 More than £430,000 raised by phone voting on BBC shows like The Voice has been awarded to 77 theatre projects in the UK.
The BBC Performing Arts Fund donates money from TV voting to help develop creative talent.
Most of the money raised came from singing talent show The Voice.
10p from every 25p vote goes to the fund. The charity also raises money from downloads of The Voice performances.
Among the projects receiving funding are a children's theatre in Bristol and a disabled arts group in Belfast.
One other project will let actors who can't leave home take part in a play with video calling.
The BBC Performing Arts Fund has been going for 10 years and has so far given out more than £4million.