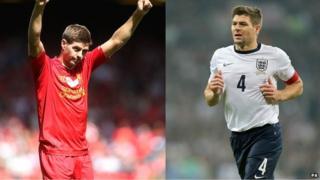 The BBC's Match of the Day magazine has asked football fans for their views on the game and found some very interesting facts.
Their survey suggests that 84% of kids want to see more English players in the Premier League.
And 60% of fans would rather England won the World Cup than their team won the Champions' League.
But 55% of fans would rather watch their own club play than watch the England team.
The survey comes as the MOTD magazine urges the nation to 'Get Behind England' ahead of the World Cup next year. The campaign is backed by the Football Association.
The ICM Survey was of 1,000 children (under 16 years old) across England in November 2013.
So: club or country?
Your comments
I'd rather watch my team Manchester United play. Having a mix of nationalities brings differences in style of play. Also England always lose!
Sam, Cheshire, England
I would like to see Chelsea play in the Champions League because they have a better chance winning a cup than England.
Joe, Barking, England
I would like England to win the World Cup next year, because it would make me proud!
Joseph, Colchester, England
I think country because you need to make your country proud.
Hamza, Manchester, England
I would rather watch my own club because you get used to the playing style. The England team is made up of people from other clubs you don't support.
Hugo, Gilmorton, England
I would watch the Premier League because it lasts longer than the World Cup and happens every year.
Reece, Hertfordshire, England
I think that a club is much better as they are your home town and it is more competitive. It is very gripping when they have transfers and each match has a big impact on their league table. Whereas countries have a fixed team and only consists of people in their country.
Lewis, Preston, England
I would support the country because that it is our nation not just something we support.
Jacob, Gillingham, England
I'd rather watch my favourite club Liverpool play but my country is not bad.
Kyle, London, England
It should be your team because we have the right to like what we want and not to just watch England for the sake of it.
Hazel, Dingley, England
I live in Norwich and England but I'd rather watch Chelsea play.
Jayden, Norwich, England