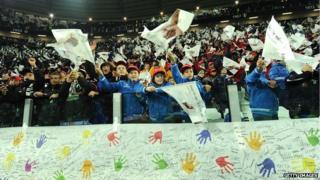 Italian football team, Juventus have been fined £4,140 after school kids were found guilty of insulting chants.
The 12,200 children were seated behind both goals for Sunday's match against rival team Udinese.
Every time the opposition goalkeeper went for a goal kick the kids shouted insults at him - an old Italian ritual.
The large number of kids were there because Juventus' extreme 'Ultras' fans have been banned from matches for chanting insults about Naples.
Udinese coach Francesco Guidolin said: "It is really troublesome to hear those words every time the goalkeeper puts the ball into play."