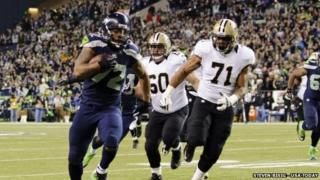 Some American football fans were so raucous on Monday that they registered as a minor earthquake, a research group has said.
Fans jumped up and down after a touchdown at a match between Seattle Seahawks and the New Orleans Saints.
The Pacific Northwest Seismic Network (PNSN) detected vibrations that measured between a magnitude one and two quake.
The match took place in Seattle in the US state of Washington.
PNSN director John Vidale told news channel CNN that five separate 'earthquakes' were recorded during the game.