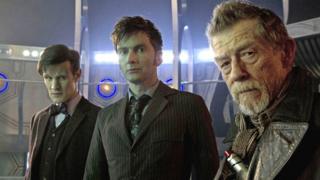 The Day Of The Doctor has broken the BBC iPlayer record, with 1.27million people watching online in the space of 24 hours.
The 50th anniversary episode of Doctor Who beat the record set by the London 2012 opening ceremony.
Overall 12.8million people watched The Day of the Doctor making it the most-watched drama of the year.
It was broadcast in 94 countries at the same time, breaking the record for the largest worldwide TV drama simulcast.
This Doctor Who Christmas special on 25 December will be Matt Smith's final outing as the Doctor before he is replaced by Peter Capaldi.