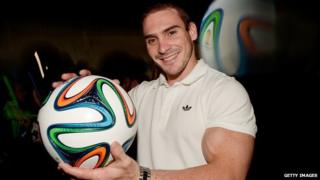 The official match ball for the Brazil 2014 World Cup has been revealed.
The ball features a gold, blue and green ribbon design and was unveiled at a celebration in Rio de Janeiro.
It has been nicknamed the Brazuca which is Brazilian slang to describe national pride and things which are seen as being typically Brazilian.
Adidas, which designed the ball, said the ribbon pattern symbolises the popular wish bracelets worn in Brazil.