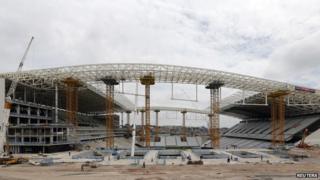 Three stadiums being built for the 2014 World Cup in Brazil will not be ready by the deadline, according to Fifa.
The new venues were supposed to be finished by 31 December.
Arena Pantanal in Cuiaba, Arena da Baixada in Curitiba, and Arena Corinthians in Sao Paulo are likely to miss the deadline.
The stadiums need to be finished before the World Cup kicks off on 12 June 2014 so that a couple of test matches can be played.
But Fifa president Sepp Blatter said: "There are some small delays in construction of stadia. But so small that, with one exception... everything will be ready."
Two workmen died when a crane collapsed at Arena Corinthians in November. Arena Corinthians is supposed to host the first game of the World Cup.